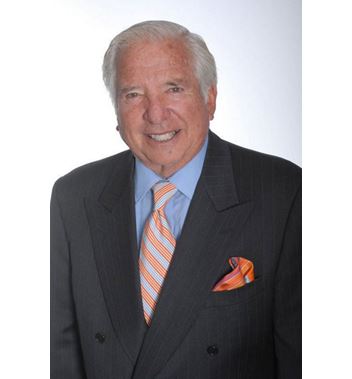 2018 Honoree:
Very few cowboys or PBR fans have heard of Barry Frank.
Yet the man set to receive the prestigious Jim Shoulders Lifetime Achievement Award at the PBR World Finals in November has impacted professional bull riding in ways far beyond what most could ever imagine.
"Barry helped put the spotlight on our sport like no other at a time when, to most fans, PBR stood for 'Pabst Blue Ribbon'," said former PBR CEO Randy Bernard.
Back in 2001, Bernard was in a pickle. PBR was carried on TNN, but Bernard wanted more.
He planned to bring PBR's television rights back in house, allow the cowboys to control their own fate, and go mainstream.
The entity that owned the rights was demanding an exorbitant fee.
A colleague at NBC suggested Bernard call Barry Frank over at IMG.
Frank was already a legend – one of the sports industry's most influential and prolific content creators, television rights negotiators, and talent representatives.
(Years later, in bestowing a Lifetime Achievement Award at the 39th Annual Sports Emmy® Awards, the committee would proclaim, "It's safe to say that no one man shaped modern sports television more than Barry Frank.")
Frank read the league's broadcast rights contract, quoted Shakespeare, and told Bernard he'd take care of it.
True to his vaunted reputation, Barry won back the PBR's television rights at less than half of the original asking price.
He then brought the 8-year-old sport to CBS. Frank's reputation, enthusiasm, and vision sealed the deal. The band of maverick cowboys riding wild bucking bulls joined a powerhouse portfolio including the NFL, PGA Golf, SEC football and NCAA basketball.
The PBR had entered the big leagues and now sometimes pulls Sunday ratings second to only the NFL.
"Barry is a tremendous matchmaker who put the two of us together," explained Dan Weinberg, Executive VP of Sports Programming, CBS. "With Barry's help, guidance, and passion, a marriage happened that is still together in large part because of his original vision."
"I didn't do it just for the money," Frank said. "I got involved in the sports I like and admire."
Frank had done deals for all the major leagues, and is credited with launching Olympic rights into the stratosphere after his seismic deal for the Olympic Winter Games Calgary 1988.
Yet he's always been drawn to sports perceived as off the beaten path. He especially admires unsung athletes outside the traditional stick-and-ball games.
"In PBR, these cowboys are the toughest athletes in sports," he said. "They take a terrible beating and get back up every time. If I can help their (financial) means, I'll go do that. It's been a pleasure and privilege to work with the PBR."
In a truly illustrious career, Frank says negotiating PBR's TV deals has been "one of the things I'm most proud of."
Looking back, the legendary executive characterizes his long career as a fortunate accident.
That story will be chronicled tonight on PBR Heroes & Legends hosted by Rob Smetz, another Jim Shoulders Award recipient following his career in bull fighting. The show airs on Ride TV at 8 p.m. ET.
Frank, who grew up in Dayton, Ohio, fondly recalls smelling the gasoline and hearing the squeal of rubber at Indianapolis Motor Speedway as a five year-old boy. He loved open-wheel auto racing, but wanted nothing more than to be an actor.
He was drafted into the Army but rejected due to a heart murmur. After earning degrees at Carnegie Mellon University and Harvard Business School, Frank wound up in Chicago.
Unable to land any acting roles, opportunity beckoned at the ad agency J. Walter Thompson in Detroit, working with Ford, then the biggest advertiser in sports.
"I never thought I'd wind up in sports or TV but I fell in love with it," he said.
He was fortunate to join ABC Sports and learn at the knee of geniuses like Roone Arledge, the creator of "Wide World of Sports" and "Monday Night Football," and smart enough to soak in the wisdom circulating in a hothouse sports programming shop.
"Roone Arledge keenly understood what audiences wanted, even if they didn't know it themselves, and he taught me everything I know," Frank said.
Observing how Arledge created masterful emotional drama and "up-close-and-personal" sports storytelling, Frank developed shows that resonated across America like The Superstars, The Skins Game, The Tiger Woods Primetime Challenge, and World's Strongest Man for CBS, the longest running sports show on TV.
"People like to see others doing things they can't do," he said. "It's why World's Strongest Man has been successful for 41 years, and I think it's part of the success of PBR. Riding a bull is one of those things you and I can't ever imagine doing."
Even as the PBR now operates tours in five countries and continues to set attendance records in arenas across the U.S., Frank believes there's room for more growth.
"People really like cowboys. They're considered good people, honest guys, tough as nails," he said.
Now 86, Frank can be seen several days a week in his Endeavor (parent company of IMG) office on Madison Avenue, wearing a splendid suit, a spiffy pocket square, and a broad smile.
The advice he gives young agents is more every day Main Street than textbook Harvard Business School.
Everything starts and ends with relationships. Always be honest and upfront with people. Con or hustle someone once, and they'll remember it for a lifetime.
His brand of old-school relationship building is built on a genuine concern for others, creating real human connections rather than spamming contacts on LinkedIn.
Frank will always take the long plane ride. No phone call can ever replace meeting in person.
"Barry truly cares about people and does not have one single enemy," said his wife, Elizabeth.
After hundreds of often tense, high-stakes negotiations, that's no easy feat.
At the negotiating table, he has been a wizard. His secret strategy: you don't want to slaughter your opponent. In fact, he always tries to lose the last negotiation point.
"I want the guy on the other side of the table to know he beat Barry Frank," he said. "I want him to go home to dinner to his wife and kids knowing he had a good day."
Today, and for years to come, anyone having a good day in the PBR – from the fan on a Sunday afternoon enjoying a 15/15 Bucking Battle on CBS to the cowboy taking the million-dollar bonus at World Finals – can thank the man they probably have never heard of, the one and only Barry Frank.