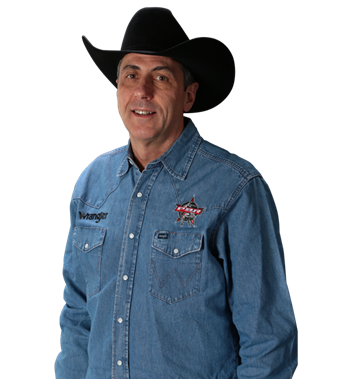 2016 Honoree:
Dr. Tandy Freeman had no idea why the voice on the other end of the phone was congratulating him.
Then he heard something about Jim Shoulders and an award.
It quickly became clear, Freeman had been selected as this year's Jim Shoulders Lifetime Achievement Award-winner.
It was summertime and no one from the Heroes and Legends committee had been able to reach Freeman prior to the call he received inquiring about who he might want to have introduce him at the ceremony.
"Well, I kind of found out by accident," recalled Freeman, chuckling over the miscommunication. "I was like, 'I don't know anything about this.'"
The annual award, which was first given in 2011, recognizes a non-bull rider who has made a significant contribution to the sport of professional bull riding. Freeman, one of the most highly regarded orthopedic surgeons in the sports world, has been associated with the PBR since 1995.
This year's Heroes & Legends Celebration will take place at the South Point Hotel, Casino & Spa on Tuesday, Nov. 1.
Other honorees include 1996 World Champion and PBR co-founder Owen Washburn, who will be enshrined in the Ring of Honor, this year's Brand of Honor winner Bushwacker and LeAnn Hart will receive the Sharon Shoulders Award.
"To be honest with you," Freeman admitted, "I didn't know such a thing existed and that's not anybody's fault but my own."
He added, "But Jim Shoulders is one of those people that he was the kind of guy who could be your hero. Fortunately, I got to know Jim and Sharon, and he's a guy that I really admired. To get an award that's named after him is really a special deal."
Freeman doesn't use the word hero lightly.
Aside from the military, firefighters, police officers and the like, he reserves "hero" for those he knows personally and, more importantly, and people he looks up to.
He named two.
One was Walt Garrison, a hardnosed fullback for the Dallas Cowboys. Long before Freeman met and befriended the former All-Pro, he had a photograph of Garrison hanging in his room.
Garrison wasn't big, nor was he especially fast, but he was tough.
"He was a guy you couldn't make him quit," said Freeman, who compared Garrison's toughness and reputation for playing with injuries to that of his other hero—Shoulders. "Jim would walk by the training room and go, 'How's everybody doing in the sissy room?' And it didn't matter if it was at a PBR event or the (National Finals Rodeo) or some rodeo somewhere, he would never fail to stop, come in and say hi to everybody in the sissy room.
"And tell a joke."
Freeman recalled one year when Jim and Sharon invited him and his wife to their ranch following a PBR event in Tulsa, Oklahoma.
The Freemans spent an afternoon with the Shoulders family. They showed Tandy and Maureen their mementoes and shared personal stories from throughout their lives.
"To be in their home and have them tell us about their life," Freeman said, "that was pretty special."
He added, "I'm humbled to be recognized with an award that has Jim Shoulders name on it. I just hope this isn't a retirement award."
Tandy Rice Freeman III was born in Dallas, Texas, on Nov. 24, 1957.
After graduating from Junction High School, he attended Baylor University, where he majored in biology, and eventually went on to earn his medical degree from Southwestern Medical School at the University of Texas – Dallas.
Freeman completed his internship at the University of Utah and his residency in Birmingham, Alabama, where he also completed a one-year fellowship program with the American Sports Medicine Institute.
After returning to Dallas, he worked as an assistant team orthopedist with the Dallas Texans of the Arena Football League and the Dallas Freeze of the Central Hockey League.
Then he met Dr. J. Pat Evans.
Their friendship and Evans' mentorship forever changed the course of Freeman's career.
Evans, a longtime physician with the Dallas Cowboys, had been introduced to the sport of rodeo by Freeman's hero Garrison.
In the 1980s, Evans looked after bull riders like Ty Murray and Donnie Gay. After a couple years of observing and taking notes, by the 1990s, Evans began referring rodeo athletes to see Freeman.
"Tandy didn't stumble into this deal," said Murray, in a previous profile of Freeman for PBR.com. "J. Pat saw what he needed to see in him and brought him along."
PBR founders Cody Lambert, Tuff Hedeman and Murray sought out the services of Freeman when they began hosting events.
Freeman started with the PBR in 1995, while also serving as the head team physician for the Dallas Mavericks from 1996 until 2001.
"I was lucky," said Freeman, of his mentor.
Among his closest friends over the years are Clint Branger and Tater Porter, Murray and Hedeman, former PBR television producer Joe Loverro along with Justin McBride and Brendon Clark.
Clark developed a friendship with Freeman in 2005, when he tore his PCL.
His trust in Freeman was cemented four years later, on a rainy night in Omaha, Nebraska, when he struggled to catch his breath after a bull named Black Smoke had stepped on his midsection.
Clark, an Australian native, who thinks of Freeman as his overseas dad, managed only to say, "Help me. I'm going to die."
Time was of the essence as Freeman and his staff tended to Clark.
Doctors later determined Clark had suffered a lacerated liver, contusions of both lungs and numerous rib fractures.
"The guy saved my life," said Clark, "that's the reality."
That's what Freeman means to Clark and every other bull rider, who has competed in the PBR and the PRCA.
"I took him for granted every weekend," said McBride, who felt as though Freeman's presence gave him the willingness to take a punishing blow if meant making the 8-second whistle. "I knew he was going to be there.
"There are a handful of guys that I can attribute my success to as a professional bull rider," continued the two-time World Champion, "and Tandy Freeman is one of those guys. I never had to worry about doing the most dangerous thing or how bad I could get hurt because I knew no matter what it was, he would fix me."
McBride recalled breaking his leg in 2004 with the World Finals fast-approaching.
McBride was upset and "pretty crushed about it." And he verbally let that frustration out in the sports medicine room. Freeman simply told him it would be OK. One plate and 11 screws later, Bride was competing in Las Vegas.
The injury might have cost him a world title shot in 2004 – he finished fourth in the standings – but it didn't affect 2005 and the Nebraska native won the first of two world titles.
McBride won again in 2007 despite a shoulder injury that required surgery.
With Freeman's assistance, McBride was able to return for the second-half of the 2008 season and retired in Las Vegas.
"Tandy was always that calm for me because he's a pretty calm guy when it comes that stuff," said McBride, referring to recovery and rehab, "but don't catch him in the rental car line. (laughing) In medical terms, he's very calm and he always brought that to me – he calmed me down – but rental cars, airlines and things of that nature, not the calmest guy.
"I call it the zero tolerance policy."
The 2016 PBR Heroes & Legend Celebration will be held on Nov. 1 at Las Vegas' South Point Hotel, Casino & Spa. Tickets to the ceremony are on sale now at the South Point Showroom Box Office. Fans can also check out the offical site for PBR Finals Week for special deals to the biggest bull riding party in the world.