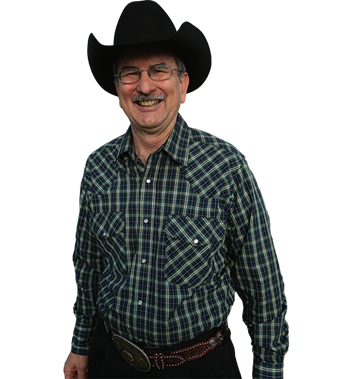 2015 Honoree:
Brett Hoffman has been passionate about Western culture and religion for his entire life.
For as long as he can remember, he's enjoyed traveling, and the West Texas native has been working as a journalist since writing his first rodeo story for his high school newspaper back in the mid-1970s.
"He was writing about cowboys when it wasn't cool," said nine-time World Champion Ty Murray. "He loves the sport and when I say he loves the sport, he loves cowboy sports. He loves rodeo and he loves bull riding.
"He has done a lot for (the PBR), but it's done just purely out of loving it. I'm not trying to get cheesy, but that's the whole key to life. Like my kid, that's my hope for my son. Brett Hoffman has made a career and carved out a career based solely off what he loves and that's awesome. He took the things he loves, combined them and figured out how to make a living doing it and that's my wish for my son."
In October, Hoffman is receiving this year's Jim Shoulders Lifetime Achievement Award.
Named in honor of Jim Shoulders, this award was created in 2011 to honor those who have built the PBR into a global phenomenon. The award is named for, perhaps, the greatest Western sports athlete of all-time, who was a giant in and out of the arena.
Shoulders won 16 world titles in becoming a household name before turning his attention to stock contracting, as well as producing and promoting rodeos. Shoulders was also an early supporter of the PBR.
"I'm honored to have an award that has his name on it because he's the rodeo and bull riding equivalent of Babe Ruth in Major League Baseball," Hoffman said.
Hoffman was in the seventh grade when he wrote Shoulders a letter explaining that he was a young bull rider competing at Little Britches Rodeos.
In the letter, Hoffman asked Shoulders if he could have a signed photo of the legend and his son Marvin Paul Shoulders. A short time later, he received a manila envelope with four signed photos. In 1988, when Hoffman wrote one of the many stories he's penned about the Oklahoma legend, the Fort Worth Star-Telegram used those photos to illustrate the story.
Hoffman got to know Shoulders and his wife, Sharon, four years earlier.
The board of directors for the annual Fort Worth Stock Show & Rodeo would entertain Jim and Sharon in their box suites, which was located near where the journalists would watch the event.
Hoffman has covered that event every year since 1984.
"Not only was he a great competitor, he was the consummate rodeo person," Hoffman said. "He was credited with having the first (bull riding) school and definitely the first rough stock school, which was really part of the new era of rodeo."
PBR co-founder Cody Lambert said, "Brett knows what this award means."
Hoffman was born and raised in Paducah, Texas, a city of just more than 1,000 people.
Growing up, all of his school papers were about rodeo and, in fact, his senior paper was a progressive look at the development of rodeo schools and clinics.
He graduated high school in 1978 and attended Vernon Regional College before transferring to Oral Roberts University, where he graduated in 1983 with a degree in telecommunications.
He then attended graduate school at Texas Christian University where he earned a Master of Divinity.
While a student at TCU he took a job at the Star-Telegram, where he still writes today.
"At one time, I did rodeo and religion together in early 2000s," Hoffman said. "We called it the R&R beat."
He has traveled extensively during his journalism career.
He has covered and written about the Billy Graham Crusade and Joel Olsteen — a beat that has taken him from the old Texas Stadium to Yankee Stadium in New York.
However, he's best known having written a weekly rodeo column.
At its peak, the column filled a half-page in the Sunday sports section.
Today, his column still runs every Tuesday in Fort Worth and it is syndicated to Texas newspapers in Lubbock, Amarillo, San Angelo, Hunstville, Athens, Vernon and Paducah, where he's currently a pastor at a local church.
"He's been writing about this sport for as long as I've been around and he's unwavering in his love for it," Murray said. "In my mind, he deserves some acknowledgment because he's always done it for the right reasons — he loves it. Everything I know about Brett, at the end of the day, he's just genuinely a good person."
Murray said he doesn't recall the first time Hoffman interviewed him, but added, "I know that he's interviewed me about a million times."
Murray was 17 and moved from Phoenix to Odessa, Texas, when Hoffman spoke with for the first time.
As a matter of fact, Hoffman has written stories about nearly all 20 of the PBR founders while they were competing in the PRCA.
"When we started the PBR, and we told him what we were trying to do, he got it," Lambert said. "That was a good thing because there were lots of rodeo people that laughed at us — Brett got it from day one."
Hoffman said, "Even when they had a small number of events the first year, I took it very seriously in the way that we covered it."
He added, "They were doing things right. They had the world class guys there, they had world class bulls and it was a field day for a writer like me to come and cover that."
Hoffman was in Las Vegas for the first World Finals in 1994.
He remembers the total purse that year was $275,000 compared to nowadays when the event winner receives $250,000 and the World Champion is awarded a $1 million bonus.
Since its inception, Hoffman has covered PBR events in several cities throughout Texas — Arlington, Dallas, Houston, San Antonio and others — as well as in California, Florida, New York, Washington, Oklahoma, Georgia and Louisiana. He's been to Australia four times, down to Brazil and frequently traveled to Canada.
"When I showed up in Tucson or Vancouver it made an impression on them," said Hoffman, who in addition to the newspapers has contributed to PBR.com and several PBR publications. "They appreciated that I was willing to do that."
"It's a neat thing to talk about – how long our paths have crossed – but it's also a neat thing that he's written about our sport and the western lifestyle for that long," Lambert said. "He's been doing it his entire career as a journalist."