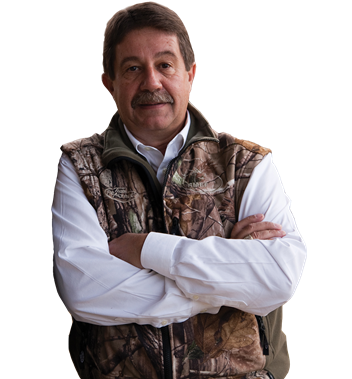 2014 Honoree:
David Allen, a man who has supported the PBR since its beginning, was behind the PBR's first event in Kansas City, Missouri, and also hired PBR Entertainer Flint Rasmussen to work a PBR event for the first time. Although he was asked to help the organization with sponsorship, the PBR, as a startup, could not afford Allen's services. Instead, Allen was offered the opportunity to co-promote select PBR events, which included bringing and establishing the Ty Murray Invitational in Albuquerque, New Mexico.
*********************************************
David Allen is as unassuming a person you'll ever meet.
As a matter of fact, typically dressed in khakis, a plaid button-down shirt, vest and ball cap, he looks more like the owner of a local hardware store or, perhaps, a fly fishing shop in his native Montana than he does the CEO of one of the most influential conservation organizations in the world.
Those who know him best – PBR cofounder Ty Murray and fellow Rocky Mountain Elk Foundation (RMEF) executive Steve Decker – use phrases like laid back and casual.
He's reserved enough that those who haven't met him might underestimate Allen, but to do so would be to miss an incredible opportunity.
"Don't always read a book by its cover," said Decker, who agreed that Allen isn't the most fancy executive. "Spend a few minutes to flip through a few pages because it might be the best book you ever read."
Decker added, "I would tell anyone who meets David to take a few minutes and listen to what he has to say because more often than not he there's wisdom in his words. He's not the most outspoken person. He kind of rolls along with things. Don't underestimate who you're talking to. There's a lot of wisdom and a lot of experience."
Allen has co-promoted the Ty Murray Invitational, in Albuquerque, New Mexico, for the past 18 years. According to Murray, despite all the growth in the PBR organization and its popularity, changes in executives and personnel along with the marketing and PR needs, the one constant has been Allen.
In addition to the annual event with Murray, which is the second-longest standing event and third-most attended, Allen is also responsible for bringing the PBR to Kansas City as well as introducing the organization to Flint Rasmussen.
Allen also initiated the longstanding relationship between the PBR and its yearly Touring Pro Division event held in Denver, Colorado, in conjunction with the Western Stock Show.
"The PBR was just a fledgling entity at that time," Allen recalled. "These guys are trying to get it off the ground. Tuff (Hedeman) was kind of ramrodding things at that time and he had asked me, 'Hey, could you help us with some sponsorship stuff?' I did and then he said, 'Oh, by the way we don't have any money to pay you, but if you're interested in promoting some of our dates or something like that, we could try to work something out.'"
Allen, who partnered with Murray because he felt his name had more equity than other cowboys because of his accomplishments, added, "I don't know why, but I picked Albuquerque. I just knew bull riding would be big here just because of the demographic."
Murray said he admires Allen's sense of humor and his tendency to tease and the fact that both like pranking one another as well as pulling pranks on other unsuspecting victims, if you will.
To that end, Allen jokes, "I have to credit Ty for paying my kids' way through college because that's what I'm doing with the money from this event."
Allen is currently the CEO of the RMEF.
Ah, but the lesser-known stories are those of a charmed life he usually lets others tell.
He was roommates with Rick Sutcliffe, who won the National League Cy Young Award with the Cubs in 1984, while they lived in Chicago, and was close friends with former Bears quarterback Jim McMahon.
Allen not only toured with Willie Nelson for three years, while representing Wrangler, but he was also on the tour bus when Nelson penned the country classic "Redheaded Stranger." That same role as a promoter with Wrangler eventually led to a decades-long business partnership with the late-Dale Earnhardt in which they dominated the souvenir merchandising market in NASCAR from 1980 until Earnhardt's untimely death in 2001.
H&L
Allen moved to Montana shortly afterward and sold his company two years later.
"David has lived one of the most charmed lives of anyone I've ever met," Decker said. "There are so many of those things that you don't know because David doesn't talk about that stuff like he has to prove who he is. You have to spend time with him and when you run into old friends they talk about the days with Walt Garrison, the days with Rick Sutcliffe, the days with Willie Nelson and the days with Dale Sr.
"He truly has lived an extraordinary life," Decker continued. "There's no arrogance about him with that stuff. You really have to spend time to figure it out. I've spent a lot of time with David over the last seven, eight years and there's still a pile of things I don't know."
Born and raised in Deadwood, South Dakota, Allen studied journalism at the University of Wyoming.
As his RMEF bio stats, Allen is a lifelong conservationist with a deep passion for elk and hunting. He began his professional career in the early 1970s as a rodeo photographer for the PRCA before becoming their first Media Director and building the organization's first media department.
He left the PRCA in 1979 and became the Director of Special Events for Wrangler Jeans before opening his own sports marketing company, in 1987, and has also served on the board of the Congressional Sportsmen's Foundation. Of the 10,000-plus volunteers that help with the RMEF, Allen said, "They are the kind of conservationists Theodore Roosevelt would brag about."
Allen lives in Billings, Montana, with his wife and two sons.
This October, Allen will become the fourth man honored with the annual Jim Shoulders Lifetime Achievement Award following Rob Smets (2011), Tom Teague (2012) and Cotton Rosser (2013).
Named in honor of Jim Shoulders, according to the PBR, this award was created to honor those who have built the PBR into a global phenomenon – bullfighters, stock contractors, contract personnel, employees and more.
This award is named for, perhaps, the greatest western sports athlete of all-time, Jim Shoulders, who was a giant in and out of the arena by winning 16 world titles and becoming a household name in the process.
"I think he's very deserving," said Decker. "David is one of those guys, who oftentimes can be overlooked because he's not pushing himself in front of the spotlight. He's always the guy behind the scene a little bit that makes things happen."
Decker added, "In the early days he was one of those guys who helped the PBR get established and on the right track. What the Jim Shoulders Award represents and what David has contributed, it's very appropriate."
Although Allen might not be a cowboy, per se, Murray said he has all the traits of a great cowboy.
He's sincere and genuine. Vision and leadership often come up in conversation.
His kindness and compassion are always mentioned as well as conviction and faith.
Decker described Allen as having an uncanny knack for putting the right people in the right place to be successful – more importantly, he allows them to experience their successes – and, for as long as he's known him, he said Allen has been guided by good morals, principals and values.
"He's what I see as the real deal," said Decker, who added, "I think he's massively loyal. He possess a lot of great qualities that make a great man."
Murray was more blunt, "If you don't like David Allen or David Allen doesn't like you, something is severely wrong."
Murray added, "He's always been solid for 18 years. I do have a ton of respect for that because you don't find that every day."
A family man – whose as a good a husband as he is father – Allen has been described as having cowboy-like traits—though he's be no means a cowboy.
"He's appreciated what good cowboys do for a long time," said Murray, who called Allen a straight-shooter. He added that Allen always means what says and added, "I have as much respect for him as I do (former CEO) Randy Bernard. He's honest and a man of his word. He's a good businessman without being fancy. He does the ABC's perfectly and he's a laid-back really cool guy."
Like many great cowboys, Decker said Allen has never made the success of whatever projects he's working on – RMEF, PBR or otherwise – about himself.
That's one of the things I admire about the guy," said Decker, who noted Allen's humility and confidence. "That's a big part of his success.
"He doesn't always have to have the microphone and have the spotlight on him. In fact, he pushes away from it more often than not, but he'll get up and speak when he has to. But it's not him clamoring for the mic."