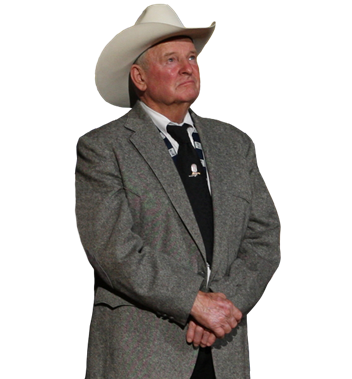 2013 Honoree:
Legend.
Icon.
Those are just a trio of adjectives used to describe Cotton Rosser and even those words - as meaningful as they are singularly and cumulatively - don't begin to describe the impact he's made in the world of rodeo and, more specifically, the sport of professional bull riding.
Rosser, 85, grew up riding rough stock and roping cattle until an injury in 1956 ended his competitive career. He then turned to raising bucking bulls and, more importantly, producing rodeo events known for their pageantry and flamboyant opening ceremonies.
As a roper, he competed alongside the likes of Gene Autry and rode with Casey Tibbs and Jim Shoulders-for whom he'll receive the Jim Shoulders Lifetime Achievement Award at the Heroes & Legends ceremony taking place Oct. 22 in Las Vegas, the day before the first round of the PBR World Finals.
"He's definitely a pioneer and a showman," said PBR co-founder Cody Lambert. "He advanced the showmanship of rodeo and he wasn't afraid to try something that hadn't been done before, but he's never lost his connection with the West and the Western way of life."
Rosser, a native of Marysville, Calif., purchased the famous Flying U Rodeo Company in 1954 - two years before he was injured in a ranching accident that involving a post hole digger - and it's been a family business ever since.
He and his wife Karin have put three generations of Rosser's to work on the ranch and at various Flying U rodeos throughout the country.
Their signature events represent style, showmanship and family entertainment. They celebrated 50 years of production in 2004, and next year Cotton, who still works everyday despite recently being slowed following a broken arm, will celebrate 60 years of producing rodeos.
"He's done it all and he's the entertainer," said his daughter Cindy Rosser. "They call him the P.T. Barnum of rodeo."
Rosser himself was once quoted as saying, "If you don't keep the audience entertained they will go somewhere else."
In addition to the memorable opening ceremonies, which he's produced for the National Finals Rodeo, Houston Livestock Show and the Grand National Rodeo in nearby San Francisco, he's regarded for producing snappy events in which the action was nonstop.
He even recently produced a rodeo in Monterey, Calif., that took only one hour and 15 minutes.
"You have to run the show, you can't let the show run you," he's quoted as saying in his official biography.
Cindy explained, "He wants a fast-pace rodeo and he wants to entertain those people."
Lambert has known Rosser for years and said "he's always about entertaining."
RELATED: Red Wolf to receive 2013 Brand of Honor
Lambert and the 19 other founders of the PBR recognized that's what set Flying U Rodeos apart from the others and used that same approach in establishing the PBR as a standalone sport that is as much about entertaining a diverse audience as it is about the bull riding competition.
Like the PBR, Rosser understood early on how to expose his love of the West and Western heritage to a mainstream following.
"He knows what it takes to be a cowboy and appreciates what the PBR has done for rodeo," Lambert said. "He appreciates that, and the fact that Cotton appreciates the PBR is meaningful to me.
"Having a legend like him appreciate the PBR is like Jim Shoulders appreciating the PBR. Those are rodeo legends. They get what we're doing."
In fact, according to Lambert, when the Pro Rodeo Hall of Fame encountered financial trouble in January 2005 and the PBR donated $50,000 to help keep the doors open, "Cotton was the only guy that has thanked us for it, and he's done it several times."
Through the years Rosser, who has said he was most influenced by Gene Autry, has kept pace with changes and modern ideas, while preserving the heritage and traditions of the West.
He's kept up to date with technology too, as he and Karin both have their own Facebook pages.
According to Cindy, her father is in his office every day. She's tried to get him to walk with a cane, but he won't. In fact, he's expected to be back on his horse again by the end of September.
She described his mind as sharp and said that it remains stoic.
"He's still on the phone every day and making deals," Cindy said.
For the past five decades every single one of his rodeos have famously ended with the playing of "Thank you very much," as he circles the arena along the fence line on horseback shaking hands with fans.
While he's always thanked fans for their support by playing the classic song made famous in the original musical screenplay of the 1970 film "Scrooge," now is the time for the PBR (and anyone else who's been entertained by Rosser) to be the ones singing:
"Thank you very much / thank you very much / that's the nicest thing that anyone's ever done for me. / It sounds a bit bizarre / but things the way they are / I feel as if another life's begun for me."
-- Keith Ryan Cartwright