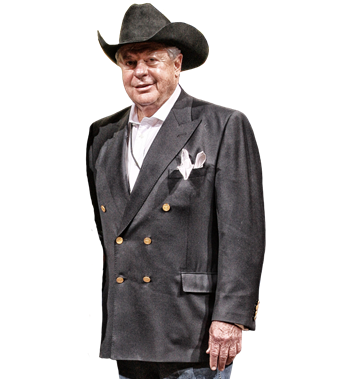 2012 Honoree:
The first time Tom Teague attended a PBR event, he was captivated. He immediately saw the potential for the sport of professional bull riding.
He turned to his good friend Dale Earnhardt, and said he thought the PBR could become a smaller version of what NASCAR had become.
He went to meet Randy Bernard, and before they had even shaken hands, Teague was peppering the then-CEO with questions. Teague liked what he heard, and told Bernard he wanted to get involved.
They became friends, and spoke on the phone often.
But one day, the call was different. Bernard told Teague he had good news and bad news.
The good news was that Bernard found a way for the North Carolina businessman to become a partner and stockholder in the PBR. The bad news was it was the close of business on Friday, and first thing Monday, Bernard needed $3.1 million to secure the PBR's television rights.
Bernard didn't have any way of supporting the investment other than his word that it would work out.
Teague slept on it for three nights.
He recalled what happened next. "Monday morning, I told my guy, 'Give them $3.1 million,' and my chief financial officer said, 'You have to be crazy, Tom.' My partner said, 'What in hell are you doing?' It's something I believed in, and it was a heck of an opportunity, and I said, 'I really like the guy who's running it.'
"That's the way I got started in the PBR."
Teague was born in Burlington, N.C., the son of a tenant farmer. The Teague family was poor, but never went without food, and never relied on government welfare. Tom can recall not having the 15 cents he needed to buy french fries with his friends once.
His father Lacy was as hardnosed as he was hard-working. For a time he worked in a factory as a knitter. Eventually he became a farmer for "Mr. Holt," and the Teagues grew tobacco and raised dairy cows. To this day, Tom doesn't use tobacco or drink milk. While he respected his father, Tom was far more influenced by his mother Phyllis.
"That's just the way it was, really, to be honest with you," he said. "She was a force."
Born in 1941, Teague was in first and second grade when he started selling seed to neighbors. He picked up a rural paper route, and even then was already trying to figure out a way to make more money.
Teague graduated from Alexander Wilson High School, where he was a fair athlete who played baseball and basketball. He would have liked to have played football, but his high school was too small to field a team.
He dropped out of Elon College after his freshman year, and went to work as a salesman for Blue Crown spark plugs. When auto dealers and small repair shop owners would claim they had never heard of Blue Crown, Teague would reply kindly, "I never heard of your grandmother, but I bet she's a nice lady."
Eventually he began selling ads for the Yellow Pages. In 1966, he enlisted in the Marine Corps. After 13 weeks of training at Parris Island, S.C., he returned to selling ads in North Carolina and served six years in the Reserves.
Teague's fortunes changed forever after he sold ad space to a truck-leasing business.
He didn't know anything about the industry, but a day after selling those ads, the owner called him with a proposition. He wanted Teague to work for him.
He sent the ambitious salesman to a Mack dealership in Nashville, Tenn., telling the young Teague, "If they like you and think you can do it, then we'll offer you a job."
"I went out there and the guy called them back and said, 'You either need to hire him or I'm going to hire him,'" Teague said.
"Anything I go at, I go at as wide open as I can," said Teague, who was now in the truck leasing business.
A workaholic - he used to work from 7 a.m. until 11 p.m., and still works on Sundays - he loved his newfound sales job, because for the first time he could physically give clients something. Not only would he provide them with trucks, but he also genuinely liked people, and made sure to provide better customer service than any of his competitors.
Just as he had done at the telephone company, and Blue Crown before that, Teague outworked the competition.
In the late 1970's, he met a man who would forever change his life.
Ken Langone was a major player on Wall Street. Langone helped Ross Perot take his company Electronic Data Systems public, and was one of the original investors in The Home Depot.
He was now on the board of a company called Unified, and interested in the truck-leasing business. He wanted to make a deal with Teague, but before any contracts were drawn up, he insisted on flying to North Carolina to meet in person.
Langone was the son of a blue-collar worker. His father was a plumber, his mother was a cafeteria worker, and the younger Langone worked as a butcher's assistant during the day while attending New York University Business School at night.
Said Teague of their first meeting: "In less than 30 minutes we shook hands that we were going to go do a deal together.
"My goal was to make money. That was my whole desire, because I had been poor."
Together they built one of the most successful truck leasing businesses in the country.
"We've been together 34 years, I think it is," Teague said of their partnership, "and we've never had a cross word. He's just like a brother to me.
"(Langone) has taught me a heck of a lot. He is one of the most brilliant people I've ever met in my life, and I listened. Even though I own two-thirds of the company, I look at him as if he is my boss, to a certain degree. I really do. I have that much respect for him."
Langone was the same partner who questioned Teague's spur-of-moment decision to invest in the PBR, but a few years later, he played a key role in helping to set up a meeting that would lead to the PBR being broadcast on network television.
Bernard had made the rounds in New York, and was having no luck.
In 2001, Langone was on the board of General Electric, and Jack Welch, who was stepping down as CEO, was going to host a dinner. G.E. owned NBC, and Teague arranged for the three men - Langone, Bernard and himself - to meet at Welch's Manhattan condo prior to the dinner.
Teague told Bernard not to bring any kind of presentation.
Bernard brought his laptop anyway, but Langone was late to arrive and wasn't interested in looking over any spreadsheets. Instead he opened a bottle of Chateau Lafite-Rothschild and got to know Randy Bernard as a person.
"Randy was nervous as a cat," Teague said, "and Ken started firing questions at him."
That night they shook hands.
The next morning, Teague went by Langone's office at about 7:30 a.m. before flying back home to North Carolina. Langone asked Teague a few more questions about the PBR, and before Teague got up from his chair, Langone was on the phone with the president of NBC.
"He said, 'I'm going to send a runner over there with some stuff about bulls," recalled Teague. Langone told NBC, "My partner - I trust him with my life - trusts this other guy, and I want you to take a serious look at this thing."
Before Teague even made it to the airport, Bernard called.
"Tom, you're not going to believe it," he said. "I've got an appointment today with NBC at 11 o'clock."
NEWS & NOTES:
A gift: Tom Teague said success in life is about getting to know people and caring about them.
He's close friends with RCR Racing owner Richard Childress, and Jerry Jones, the owner of the Dallas Cowboys. Randy Bernard and rodeo legend Bobby Steiner are among his closest friends in the PBR, along with former riders Ross Coleman and Justin McBride.
In Charlotte, N.C., he shared a story about a time he was in Colorado with McBride.
"He said, 'What kind of belt buckle do you have on?' I said, 'I have the one I won for World Champion Bull,' and he said, 'Pull that cheap thing off. I'm going to give you something different.' I said, 'What are you talking about?' He said, 'I'm going to give you my World Champion belt buckle.' I told him I couldn't take it, and he said, 'Either you're going to take it or I'm going to whip your (butt).'
"Ross Coleman was standing there, who I dearly love, and he said, 'Tom, I'd never let anybody lay a hand on you, but if you don't take that (darn) belt buckle I'm going to kick your (butt) myself.' That's the kind of relationship I have with people."
By Keith Ryan Cartwright