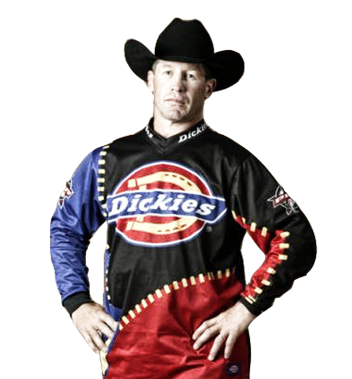 2011 Honoree:
Rob Smets – the "Kamikaze Kid" – worked 28 years protecting cowboys before retiring in 2006 after breaking his neck for the third time. Smets was selected by the riders to work nine consecutive PBR World Finals, and also won five World Champion Freestyle Bullfighting titles. A legend in the rodeo and bull riding world, Smets' reputation for fearlessness once prompted Ty Murray to quip that with Smets in the arena, he'd ride a mountain lion.
One night in 2006, Rob Smets felt a familiar pain in his neck.
He knew what it meant, so he didn't hesitate to tell his longtime friend Cody Lambert that he needed to be carried from the arena.
Earlier that night, Smets had filmed an interview for a PBR Outreach video. He had talked about his career, and said, "If I go down there and it all ends tonight, there's no way I can complain."
Thirty-five minutes later, he had broken his neck for the third time in his career.
As soon as he hit the ground, he had to get back on his feet to let the bull get past him. He leaned his back against the fence, and slid down as easily as he could. A career that began in the 1970s was over.
He and his wife Karla had already talked about 2006 being his last year, but five years later Smets admits that had it not been for that injury, he's not sure he could have walked away from the sport that meant so much to him.
"There are so many things that run through your mind," said Smets, recalling that night in Reno, Nev., "your family, your career, and I knew that it's over.
"Karla and I had talked and that was going to be it, but I didn't know that I was going to be able to quit. I don't know if at the end of the year I would have been able to walk away. In a roundabout way it was a blessing, because it made the decision and it finalized it."
If there was any doubt, Karla told him, "That's it."
"I didn't argue with her," he said.
Smets said he was blessed to have played a game he loved for 28 years as a professional.
Although he broke his neck three times - in 1992, 1996 and again in 2006 - and was badly gored in 1985, he said four major injuries over that long a stretch of time wasn't bad.
"Sooner or later, you're going to get knocked on your (butt) and you're going to find out how much heart God gave you, and how much you truly want to play the game," Smets said.
Always a showman, his last wreck didn't happen when he was protecting a rider. Instead, the bull - a white spotted bull owned by Danny Russell, the name of which escapes Smets - was making his way to the alley when Smets tried to jump over him.
"It was something extra for the crowd," recalled Smets. The bull jumped 2 feet in the air and "KO'd me."
Five years later, it's hard for him to sit in front of a TV and watch a PBR event. Nearly unbearable.
Working as an in-arena announcer makes it easier for him. This year, between Touring Pro Division events and pro rodeos, he worked 20 to 25 bull ridings. For Smets, it's about giving back to the sport by educating the fans.
He's now as excited to talk about riders as he once was when it came to protecting them. He also brings the perspective of a bullfighter, which is why he's more comfortable on the dirt than he is in a booth.
There's also the fact that "announcers don't cripple up like bullfighters do."
Nine times he was selected by the top bull riders in the world to work the PBR World Finals, six times he worked the National Finals Rodeo, and five times he was a Wrangler World Champion Freestyle Bullfighter.
In 2006, he was inducted into the Pro Rodeo Hall of Fame.
In 2011, he became the first recipient of the Jim Shoulders Lifetime Achievement Award during the Heroes & Legends celebration on Oct. 25.
Robert Edward Smets was born Sept. 11, 1959, in Palo Alto, Calif.
As a boy, he dreamed of playing centerfield for the San Francisco Giants like his hero Willie Mays. His father was a construction worker and moved the family overseas, and they lived everywhere from Thailand to Singapore and Puerto Rico to Australia.
While living in Australia, he became interested in horses, and in the seventh grade he got on his first bucking calf.
When the Smets family returned to Northern California, he started competing in junior rodeos alongside another California native, Ted Nuce. They roped and rode together from as far south as Los Angeles up to the Oregon border.
By high school, he was competing in all the boys rodeo events.
"I wanted to rodeo," said Smets. But during his junior year, he had a good-natured exchange with some bullfighters, which led to his transition from riding to fighting bulls.
"A couple near-misses and that adrenaline rush," he recalled, "and I was hooked."
He graduated from high school in 1977.
In October of 1978, he won his first bullfighting competition at the Cow Palace in San Francisco. He was 19 and competing alongside the likes of Miles Hare and Skipper Voss.
Until then he had taken his cues from Bill Landis.
"I was a young kid who didn't know anything," Smets said, "but I just knew to go."
The impetus for what would become a storied career took place in January of 1979 at a PRCA convention in Denver.
Not lacking in self-confidence, Smets walked up to Jim Shoulders and introduced himself, then asked the rodeo legend for a job fighting bulls.
Shoulders scoffed at the idea of a kid of from California working as a bullfighter. Smets only asked for an opportunity. The 16-time World Champion, who was now producing events, laughed at the youngster's insistence. Again, Smets told him all he wanted was a chance to prove his worth.
The next day, Shoulders offered Smets an opportunity to work two events in Louisiana - one in Baton Rouge and the other in Monroe. Shoulders, who was known for having aggressive livestock, told Smets if he bucked 20 bulls, he would have to be prepared to fight 16 of them. The pay was only $100 a day, and by the time Smets arrived at the coliseum, there was no going home.
"I had a dollar in my pocket," said Smets, who had purchased a one-way ticket from California.
The arena was surrounded by 13-foot high concrete walls that, according to him, "looked like a place you would throw the Christians to the lions."
He was impressive enough that night, and the next night in Monroe, that Shoulders took him home to Oklahoma and teamed him up with Hare and Jimmy Anderson.
"I boxed a bunch as a kid, so I had that boxer mentality," Smets said. "If you knock me on my (butt) I'm getting up to get even."
In the arena he watched and learned about bullfighting from two of his heroes, and learned how to cowboy from Shoulders. He was treated as if he were part of the family, and even today, he refers to Sharon Shoulders as "Mom."
"It was like, 'Man, this is what everybody dreams of,'" Smets said.
Not long after he began working for Shoulders regularly, Smets started working bull riding events for Neal Gay and Harry Vold.
He fought bulls in an era that included greats like Donnie Gay.
"The tough thing about being a bullfighter," said Smets, who is proud to have worked the golden age of riding from the mid '80s to the early '90s, "you're expected to be a machine. Letting guys get hooked is inexcusable."
Smets said he gained knowledge every time he stepped into the arena.
The key, he said, is learning each time the latch on a gate is cracked open. It's about knowing how to position yourself, understanding the animals, and working to develop "bull savvy" - even if that means sorting cattle in the back pens.
Early in his career he got in front of as many bulls as he could and benefitted from working with great partners.
He still remembers the first time he worked an event with Wick Peth in Saint Paul, Ore. Smets said Peth saw his adrenaline was getting the best of him, so he walked over and said to the newcomer, "Hey kid, just remember you gotta breathe."
There have been good days and some bad nights.
He was working the night Troy Dunn rode Pacific Bell at the NFR, and was in the arena the night of Tuff Hedeman's wreck with Bodacious.
"To see the rides I saw," said Smets, who paused to wipe a tear from his eye and never did finish his thought.
Not all his memories are in the arena. One particularly fond memory took place in Baltimore, when Justin McBride won an oversized tool box from DeWalt filled with power tools.
McBride gave it to Smets as a show of appreciation.
"I broke down in tears in the dressing room," Smets said. "That's the first thing I ever had a bull rider give me. McBride was a class act."
Smets has been married for the past 18 years.
He said his wife still provides a calming balance to his extreme nature. They have four daughters: Corey, Josie, Sammy and Dylan.
Earlier this year, when Lambert called to tell him about being honored as the first recipient of the Jim Shoulders Lifetime Achievement Award, Smets told his family, and then called Sharon. He said he could see her smile over the phone, and then they cried together.
He still misses the camaraderie in the dressing room and "popping off" with fellow bullfighters. He misses working with the best partners, the riders and bulls, but most of all, he misses bullfighting for the "best fans in the world."
"Talk about a great big full circle," said Smets. "I've been blessed. … It's been a pretty good career. God is good."
"How does life get any better?"
By: Keith Ryan Cartwright