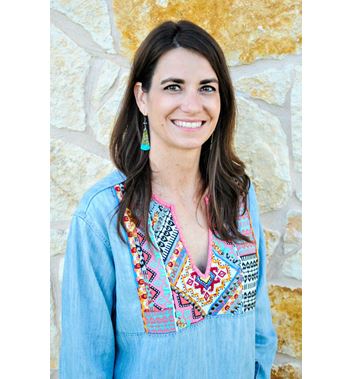 2018 Honoree:
They say that behind every great man is a great woman.
While the athletes of the PBR are all men, they would not be able to chase their bull riding dreams without support from the women in their lives.
It is these women that the Sharon Shoulders Award aims to recognize; those whose work, partnership and faith have been as integral to the sport of bull riding as the athletes themselves.
Married to two-time PBR World Champion Justin McBride since 2005, Jill McBride fits this description to a T.
Jill will receive the 2018 Sharon Shoulders Award at the PBR's annual Heroes & Legends Celebration in Las Vegas on Nov. 6.
In the lead-up to the ceremony, Ride TV's series "PBR Heroes & Legends" will feature the 2018 honorees with an episode each week. McBride's airs at 8 p.m. ET on Tuesday night.
McBride met her future husband when he moved to her hometown in Nebraska in sixth grade. The two grew up together and attended the same high school, but parted ways afterwards; Jill went to college while Justin started with the PBR in 1999.
The two reconnected in 2004 and were married in 2005.
Justin won the first of his two world titles in 2005.
Their daughter Addison was born in 2006, and Justin won another world title in 2007.
Coincidence? Not if you ask Lori McBride, Justin's mother.
"I'm so proud of her," Lori said on Ride TV. "She has stuck by that boy through thick and thin. There's been some tough days around the McBride place, but we always pull together when things get tough."
Jill was pregnant with Addison, who's now 12, toward the end of the 2005 season, while Justin was traveling and competing. She was then at home with a newborn when he was on the road again, taking care of their cows and horses in addition to raising their baby while Justin rode bulls.
"It is so nerve-wracking," McBride said of watching her husband ride bulls. "I explained it back then as a rollercoaster ride, but I don't even think it was that because at the end of a rollercoaster ride, you knew your ride was over. You knew what the outcome was. When he rode, you just never knew. I knew he could ride bulls, but you couldn't guarantee how the bull was going to act. You can't stop a bull from hurting anyone. So it was just always the unknown."
McBride says she went through things she didn't know she was capable of going through and did things she didn't realize she was capable of doing. The difficult life of a bull rider's wife pulled strength out of her she didn't know she had.
Justin retired from riding in 2008 and now works as a color commentator for the 25th PBR: Unleash The Beast. He was inducted into the PBR's Ring of Honor in 2009.
The pair later had a son, Jackson, now 8 years old, and Jill teaches Sunday school and coaches basketball. She's worked hard to provide a solid home for her kids, a normal life and stability in the midst of a completely unstable sport.
"I joke around about it a lot, but she does everything," Justin said. "I think (our kids) realize how good of a life they've got, but when they grow up they'll understand just how much their mom cared and did for them, because really everything she does every day is about them."
Jill is the ninth recipient of the Sharon Shoulders Award, joining the wives of some of the greatest riders in PBR history: Julie Carrillo, LeAnn Hart, Robyn Gaffney, Stacey Custer, Flavia Moraes, Jackie Dunn, Leanne Lambert and Tiffany Davis.
"It's such an honor to be put into that group of women," McBride said. "You can see with all their talents, the one thing that sticks out is just their determination, their strength that they have. I never pictured myself being in with that group of women, but it's a really big honor."