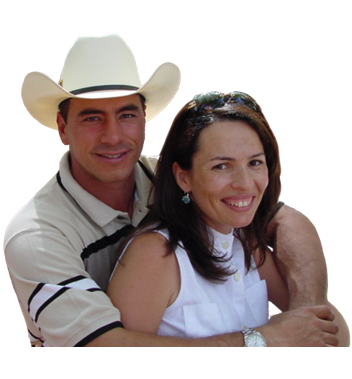 2013 Honoree:
Flavia Moraes, wife of three-time PBR World Champion Adriano Moraes, will be honored by the PBR. Not only is Flavia a supportive wife, she took it into her own hands to guide Adriano's career outside of the arena and made him an international star.
FORT WORTH, Texas ― Brazilian native Adriano Moraes has earned a record three world titles on the Professional Bull Riders circuit. He's also among only three cowboys who stayed on all 10 bulls at the National Finals Rodeo in Las Vegas.
Throughout his illustrious career, he's persevered though many injuries and there have been those discouraging times when he's been thrown off a bull when thousands of dollars were at stake.
But through it all, his wife Flavia, has stood behind him. She is the 2013 recipient of the Sharon Shoulders Award, which is given annually to a PBR wife who has shown outstanding support for her husband and has helped advance the sport of bull riding.
Sharon Shoulders, the wife of the late 1950s legend Jim Shoulders, did that very well. She was there for her husband as he broke record after record and bone after bone. In similar fashion, Flavia Moraes has shown unwavering support for her husband.
"We became partners and I got involved with Adriano's life," Flavia said. "I always did what needed to be done as a wife and a mother. I always tried. I think Adriano and I have become perfect partners and it has given me a lot of joy."
However, Flavia said she also came to terms with the fact that it was Adriano whom fans came to see.
"I used to say next to a great man is a great woman and I always helped Adriano a lot," she said. "But I saw that he needed to be out in front of everything. I have been his supporter."
One big way that Flavia showed support was by making sure that Adriano could have a stable home life when he was competing.
"When a bull rider comes home on Monday, you don't know how they're going to be," she said. "So, there needs to be a good environment for them to come to."
Knowing that being a PBR star has its trials and tribulations, as well as its high points, Flavia said she and Adriano have gone through many maturing experiences.
"We were able to go through ups and downs," she said. "Some weeks he would come home after a 92-point ride. Other times he would come home with broken ribs. Looking back, we wouldn't be where we are now if we had had only good times."
When times were tough, Flavia said she drew lots of strength from her relationship with God and from following the teachings of her Christian faith.
"I thank God for everything," she said. "If it wasn't for our spiritual life, we would not have been able to handle things the way we did. Even when Adriano lost, we had something to look to and something to always come back to."
Adriano and Flavia first came to the United States in 1992. Two years later, he won the PBR's first world title when the World Finals campaigned at the MGM Grand Garden Arena in Las Vegas. In 2001, he became the PBR's first cowboy to win two gold buckles after competing in the World Finals at Las Vegas' Thomas & Mack Center. He snared a record third gold buckle in 2006.
Adriano retired at the end of the 2008 season, and he and Flavia moved back to Brazil in 2010. Today, they live on a ranch at a midpoint between Rio de Janeiro and Sao Paulo.
In recent years, Brazilian cowboys have been the dominate competitors on the PBR circuit. But Adriano was the first big-time cowboy to emerge from Brazil and live in North America.
Over the past two decades, he and Flavia have helped other Brazilians learn how to handle their business and travel arrangements while they were living in the United States and winning big bucks on the PBR circuit. From 2004 through 2006, Flavia worked closely with a dozen Brazilians, which included former World Finals qualifier Paulo Crimber and 2008 World Champion Guilherme Marchi.
"I remember a situation in 2005 when I called in a tax expert from Oklahoma City who translated to everyone how to pay their taxes from 2004," she said. "Looking back, my helping Brazilian riders with their business has been my contribution to the sport."
By Keith Ryan Cartwright