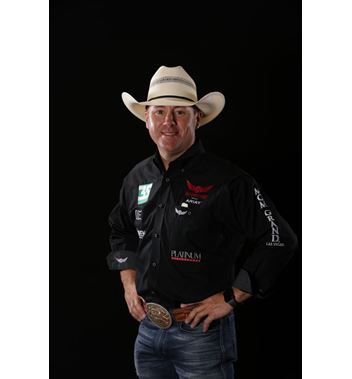 2018 Honoree:
Basketball has Michael Jordan. Hockey has Wayne Gretzky. Baseball has Babe Ruth.
Rodeo has Trevor Brazile.
He's been called "the world's greatest cowboy," and the facts back it up. He's the richest cowboy in PRCA history with more than $6 million in career earnings, and he's a 23-time World Champion tie-down roper, team roper and steer roper.
One could say that Brazile has rodeo in his blood; his father, Jimmy, was a professional rodeo cowboy, and his mother, Glenda, competed in rodeos as well. He began riding and roping at an early age and attended Vernon Regional Junior College on a rodeo scholarship. He then attended West Texas A&M University, leaving before graduation to join the PRCA in 1996.
Brazile qualified for his first National Finals Rodeo in 1998 in team roping, and won his first world title – in the all-around – in 2002.
The accomplishments and milestones came nearly nonstop from there. He won all-around titles in 2003-04 and 2006-15, tie-down roping in 2007, 2009 and 2010, team roping in 2010 and steer roping in 2006-07, 2011, and 2013-15.
"I enjoyed all of them," Brazile said on RideTV of his world titles. "The one that stands out the most, without a doubt, is the buckle (his wife) Shada wears, 2002. You think you can do it. People think you can do it. But until you know you've done it, it's just hypothetical.
There's just something about winning that first one that makes you think. There's no thinking you can't anymore. You can. It's just will you do it again."
Brazile will be receiving the Ty Murray Top Hand Award at the PBR's annual Heroes & Legends Celebration in Las Vegas on Nov. 6.
In the lead-up to the ceremony, RideTV's series "PBR Heroes & Legends" will feature the 2018 honorees with an episode each week. Brazile's airs at 8 p.m. ET on Tuesday night.
In 2003, he became the first cowboy to qualify for the NFR in four events, and in 2006 he set the single-season earnings record, winning more than $329,000. (He went on to break that record several times, winning $507,920 in 2010.)
By winning the all-around, steer roping and calf roping titles in 2007, he won the rodeo triple crown, becoming the first cowboy to do so since 1983. (He went on to do it again in 2010, winning titles in the all-around, calf roping and team roping.)
The 1983 triple crown winner? Roy Cooper, Brazile's father-in-law. Brazile was not even the best cowboy in his own family until he won his ninth world title.
"I'm one of the few guys in this life that has made a living doing what they love to do," Brazile said. "I'm going to be happy. I'm going to enjoy it. Because, like say, if I can't be happy out there, how am I going to be happy when I get done?"
Unsurprisingly, he's won nearly every major rodeo on the pro tour including RodeoHouston, the San Antonio Stock Show & Rodeo, Cheyenne Frontier Days and the Ft. Worth Stock Show. He also won the coveted Time Event Championships eight times and has earned the most money at that event.
While there is no arena in which to hang his jersey from the rafters and no number to retire, one thing is for certain: there'll never be another Trevor Brazile.
"There's no secret," Brazile said of his success. "It's fundamentals. It's hard work. It's not cheating the process. It's willing to pay the price for what you want instead of just wanting what somebody else has. The ones who want to get to the top find a way there. Clawing, scratching, that's the only way to get there."