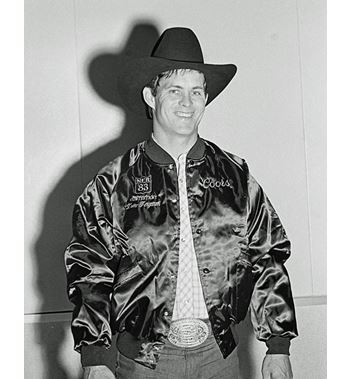 2018 Honoree:
Old Bionic. Tom Terrific. Rodeo's first $1 million man.
No matter what moniker you know him by, one thing's for certain: Tom Ferguson's reputation is unmatched.
Ferguson won nine World Championships, which is the most all-time alongside Ty Murray and Casey Tibbs. Ferguson was the first cowboy to win more than $100,000 in a single season and $1 million in career earnings. He was the first to win six consecutive all-around titles (doing so from 1974-79), and finished in the Top 15 in the world in two disciplines for eight years.
Though he was known mostly for his prowess as a tie-down roper and steer wrestler, Ferguson was called rodeo's best two-event man, Ferguson also competed in all of the timed events. He was inducted into the ProRodeo Hall of Fame in 1999.
It's a staggering resume, to be sure, and it's about to get a little longer.
Ferguson will be honored with the Ty Murray Top Hand Award at the PBR's annual Heroes & Legends Celebration in Las Vegas on Nov. 6. The award connects the PBR to its historical roots in rodeo and is given to a rodeo cowboy not eligible for the Ring of Honor who has made significant and lasting contributions to the sport of rodeo.
In the lead-up to the ceremony, RideTV's series "PBR Heroes & Legends" will feature the 2018 honorees with an episode each week. Ferguson's airs at 8 p.m. ET on Tuesday night.
Ferguson got his start in the Western world thanks to the influence of his father, and he grew up around two-time steer wrestling World Champion Jack Roddy. Initially he tried the more traditional high school sports until those dreams were swiftly – and bluntly – dashed.
"I liked playing baseball," Ferguson told Ride TV's Rob Smets. "One year I went out for high school sports, and the director out there said, 'Son, you don't have no size, speed or agility. You're no athlete. You need to go do something else.'
"I should send him a Christmas card every year but I lost his address."
Ferguson dove headfirst into his rodeo pursuits, competing locally in junior rodeos – there were no high school rodeos at the time – and attended Cal Poly San Luis Obispo, where he competed in collegiate rodeo, winning the National Intercollegiate Rodeo Association tie-down roping title in 1970 and the all-around title in 1971-72.
Ferguson got his rookie PRCA card in 1972. His $100,000 season came in 1978. In 1982, he won more than $17,000 at the Houston Rodeo, which at the time was the most money ever won by any cowboy at a single rodeo.
In 1986, he became the first cowboy to hit the career $1 million mark.
But he doesn't really care about that.
"It's just a number," Ferguson said. "It's a lot of money at that time. A pickup cost $5,000. What do you sell them for now, $60,000? Everything's ten times the money.
"It doesn't matter how much the dollars (are). The dollars are going to change."
Ferguson may not be caught up in the dollars he won, but he was certainly determined to win each and every time he saddled up. He conditioned himself to think like a basketball player – they don't make every shot, but don't get caught up in their misses and modify their decisions to make the next one – and was always looking ahead to the next rodeo.
In addition to his self-proclaimed hardheaded mindset, Ferguson was known for his work ethic.
His practices were legendary and changed the game for the cowboys that came after him. They were organized and purposeful, with a goal of being perfect and not merely breaking a sweat and getting tired. He says people referred to him as Old Bionic because he didn't make mistakes and he didn't get tired.
Though he was once told he wasn't an athlete, he certainly trained like one.
Retired since the late '80s, Ferguson now enjoys giving back to the rodeo community. He trains young cowboys just getting their start in the timed events and enjoys passing on his knowledge to up-and-comers in the rodeo world.
He credits his father with instilling in him the desire to give back, harkening back to his Cherokee heritage and the kindhearted, giving ways of Native Americans.
"We didn't have a whole lot to give away, but all I had was knowledge," Ferguson said. "I enjoyed helping people and being part of their success."