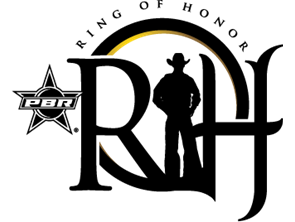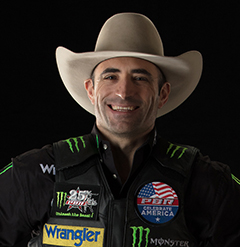 PUEBLO, Colo. – 2008 PBR World Champion Guilherme Marchi headlines the list of honorees to be feted at the 2019 PBR Heroes & Legends Celebration at South Point Casino & Hotel on Tuesday, Nov. 5, 2019.
Marchi will be inducted into the PBR Ring of Honor, and 1995 World Champion Bull Bodacious will be presented the PBR Brand of Honor, the sport's highest recognition for a bovine athlete.
The Ty Murray Top Hand award, introduced last year for athletes from the rodeo world exemplifying excellence and traditional cowboy values, will go to rodeo legends Phil Lyne and Larry Mahan. The Jim Shoulders Lifetime Achievement Award will be awarded to Neal Gay and Mack Altizer. Kylie Shivers will receive the Sharon Shoulders Award.
Heroes & Legends Celebration tickets will go on sale on Monday, June 3 and are available for $40 through PBR Customer Service (800) 732-1727 or by calling the South Point Showroom Box Office at (844) 846-8689.
RING OF HONOR
No rider in PBR history has stayed on more bulls than 2008 PBR World Champion Guilherme Marchi – the all-time ride leader with 635 qualified elite series rides. A beloved figure among fans around the world, the determined rider with the warm smile retired from U.S. competition after the 2018 PBR World Finals, where he had competed 15 consecutive times from 2004-2018. Less than a month later, Marchi would ride once more – a dramatic farewell performance to win in Goiania, Brazil, his native country. During his 15-year career, Marchi won 25 premier series events, including the PBR World Finals in 2005. He came heartbreakingly close to becoming a multi-time World Champion, finishing runner-up in the world standings four times (2005-2007, 2012). His accomplishments and approachability have helped PBR move into the mainstream. In 2016 Men's Fitness named him "the fittest athlete in sports."
South Point Hotel, Casino & Spa is the Official Host Hotel of the PBR Heroes & Legends Celebration. Special room rates and packages, starting at $75 and $119 (plus taxes and resorts fees), respectively, are available to fans at South Point by using the code FAN1101. For reservations and information, call 866-791-7626.
The 2019 PBR World Finals, the richest bull-riding event in the world, will take place Nov. 7-11 at T-Mobile Arena in Las Vegas, Nevada. The five-day event will crown a $250,000 event champion and also determine the overall 2019 PBR World Champion, who will receive a $1 million bonus and the coveted world championship belt buckle. The 2019 PBR World Finals are preceded by the 2019 Pendleton Whisky Velocity Tour Finals on Nov 2-3 at South Point Arena, with some of the best riders in the world chasing a $100,000 purse, and five riders receiving an invitation to compete at the 2018 PBR World Finals.