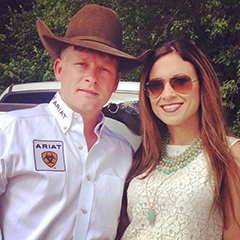 PUEBLO, Colo. – 2008 PBR World Champion Guilherme Marchi headlines the list of honorees to be feted at the 2019 PBR Heroes & Legends Celebration at South Point Casino & Hotel on Tuesday, Nov. 5, 2019.
Marchi will be inducted into the PBR Ring of Honor, and 1995 World Champion Bull Bodacious will be presented the PBR Brand of Honor, the sport's highest recognition for a bovine athlete.
The Ty Murray Top Hand award, introduced last year for athletes from the rodeo world exemplifying excellence and traditional cowboy values, will go to rodeo legends Phil Lyne and Larry Mahan. The Jim Shoulders Lifetime Achievement Award will be awarded to Neal Gay and Mack Altizer. Kylie Shivers will receive the Sharon Shoulders Award.
Heroes & Legends Celebration tickets will go on sale on Monday, June 3 and are available for $40 through PBR Customer Service (800) 732-1727 or by calling the South Point Showroom Box Office at (844) 846-8689.
SHARON SHOULDERS AWARD
Kylie Shivers is recognized as one of the great women in professional bull riding. Her unwavering support, kindness, and faith have been as integral to the sport as to the tremendous success of her husband Chris Shivers, a two-time PBR World Champion (2000, 2003). Kylie's partnership with Chris was instrumental in helping him become the second cowboy to win multiple PBR world titles, and setting records including being the first PBR bull rider to register 13 90-point rides in one season (1998); the highest-marked ride in PBR history (96.5 points, twice); and the first to win three consecutive elite series events (2000). Kylie, who teaches at a Christian Academy, is an exemplary ambassador for the western lifestyle and the sport of professional bull riding.
South Point Hotel, Casino & Spa is the Official Host Hotel of the PBR Heroes & Legends Celebration. Special room rates and packages, starting at $75 and $119 (plus taxes and resorts fees), respectively, are available to fans at South Point by using the code FAN1101. For reservations and information, call 866-791-7626.
The 2019 PBR World Finals, the richest bull-riding event in the world, will take place Nov. 7-11 at T-Mobile Arena in Las Vegas, Nevada. The five-day event will crown a $250,000 event champion and also determine the overall 2019 PBR World Champion, who will receive a $1 million bonus and the coveted world championship belt buckle. The 2019 PBR World Finals are preceded by the 2019 Pendleton Whisky Velocity Tour Finals on Nov 2-3 at South Point Arena, with some of the best riders in the world chasing a $100,000 purse, and five riders receiving an invitation to compete at the 2018 PBR World Finals.